Must Have HD-Wallpaper Pack 105-playWP
Type : Wallpapers
Format : Jpg
Resolution : 1920x1080 - 1920x1200
Size: 548 MB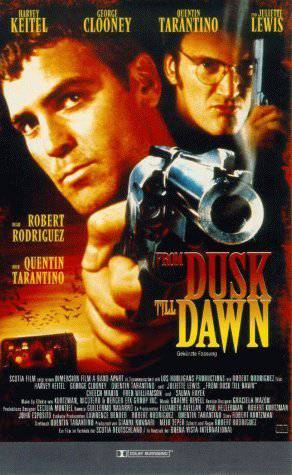 From Dusk Till Dawn 1996 BRRip x264-EBX | 803.28 MB
File: From.Dusk.Till.Dawn.1996.BRRip.x264-EBX.mkv
Size: 833665301 bytes (795.05 MiB), duration: 01:47:50, avg.bitrate: 1031 kb/s
Audio: aac, 48000 Hz, stereo (eng)
Video: h264, yuv420p, 720x400, 23.98 fps(r) (eng)
iMDB iNFO
After a bank heist in Abilene with several casualties, the bank robber Seth Gecko and his psychopath and rapist brother Richard Gecko continue their crime spree in a convenience store in the middle of the desert while heading to Mexico with a hostage. They decide to stop for a while in a low-budget motel. Meanwhile the former minister Jacob Fuller is traveling on vacation with his son Scott and his daughter Kate in a RV. Jacob lost his faith after the death of his beloved wife in a car accident and quit his position of pastor of his community and stops for the night in the same motel Seth and Richard are lodged. When Seth sees the recreational vehicle, he abducts Jacob and his family to help his brother and him to cross the Mexico border, promising to release them on the next morning. They head to the truck drivers and bikers bar Titty Twister where Seth will meet with his partner Carlos in the dawn. When they are watching the dancer Santanico Pandemonium, Seth and Richard fight with ...
Spankers_Machel_Montano_And_Fatman_Scoop-Party_Time-(Promo_CDS)-2014-YVP_INT
Timaya-Shake_Your_Bum_Bum_(Remix)-(Promo_CDS)-2014-YVP_INT
Stephen_V-Tun_Over-(Promo_CDS)-2014-YVP_INT
Teacha_Dee_And_Perfect-We_Nuh_Fraid-(Promo_CDS)-2014-YVP_INT

UFC on FOX 11 Preliminary Fights 720p HDTV x264-KYR | 5.22 GB
1280x720 | 5464 kb/s | 59.94 fps(r) | ac3, 48000 Hz, 5:1
UFC on FOX
Kubuntu 14.04 LTE 64-bit | 1.01 GB
Ali Jawad has announced the release of Ubuntu GNOME 14.04, the latest update of this official Ubuntu flavour featuring the vanilla GNOME 3.10 desktop: "The Ubuntu GNOME team is proud and happy to announce the release of Ubuntu GNOME 14.04 LTS. Ubuntu GNOME is an official flavour of Ubuntu, featuring the GNOME desktop environment. Ubuntu GNOME is a mostly pure GNOME desktop experience built from the Ubuntu repositories. This is our very first long-term support (LTS) version. Features: Most of GNOME 3.10 is now included, the few missing bits of 3.10 are available in PPA; with GNOME 3.10 comes enhanced support for online accounts, and some general optimization of the user interface; a set of 10 new high-quality wallpapers are included; GNOME Classic session is included...."
eBook Fiction Collection (Part 2)
English | EPUB | Ebooks Collection | All In One | 2.67 GB
A big Fiction eBook collection.
Richie_Loop-Mad_House_Bellevue-(Promo_CDS)-2014-YVP_INT